The New 2020 Jaguar I-PACE in Troy, MI
Schedule a Test Drive Today!
With the new 2020 I-PACE, Jaguar places its bets on electrification as the new benchmark for performance in the automotive industry. As the luxury manufacturer's first electric vehicle offering, the I-PACE has high expectations to fulfill. Fortunately, Jaguar took its time make sure that every element of its new electric luxury SUV was fully fleshed out. From rapid performance to a high-end cabin, the new I-PACE has its bases covered. It's a sign from one of the industry's most storied brands that electric performance is poised to set a new standard for efficiency, power, and comfort.
Continuing Into 2020, The Jaguar I-PACE Aims to Impress with a Combination of Traditional Luxury and Cutting-Edge Electric Performance
The 2020 Jaguar I-PACE makes good use of the distinct advantages of electric power. Using two electric motors and an advanced lithium-ion battery pack provide instantaneous torque and impressive horsepower ratings. Hit the accelerator and the I-PACE will put to bed any doubts you may have about the sheer power of electric engineering. With 394 horsepower and 512 pound-feet of torque available upon command, this is a luxury SUV that's hard to beat in a straight line. Jaguar itself has rated the I-PACE with a 0-60 mph time of just 4.5 seconds.
Quickness in the I-PACE goes beyond just raw power, though. The two electric motors are situated at opposite axles, powering each one independently. This makes a full-time all-wheel drive system that has advantages in both acceleration and grip for poor weather conditions. The I-PACE also uses an active air suspension, torque vectoring, and adaptive dynamics to rein in its power and provide confident handling.
Technology and Safety are Baked Right Into the 2020 I-PACE Experience
The 2020 I-PACE offers much more than just cutting-edge performance. Jaguar has strapped its new electric luxury SUV with a wide variety of technologies, even integrating them right into the driving experience.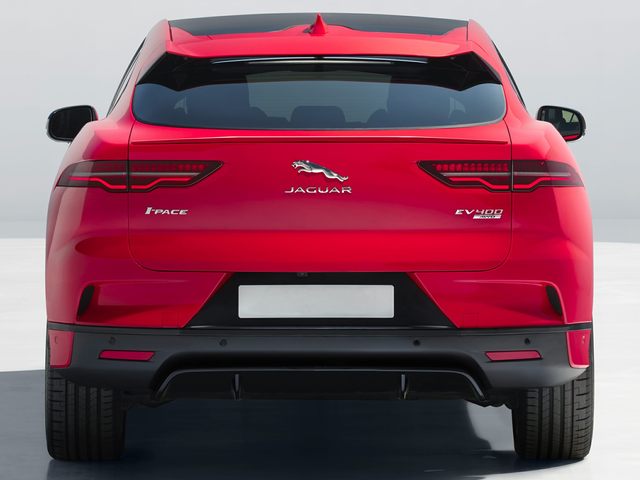 The driver alone has access to dozens of tech-savvy functionalities. The standard Touch Pro Duo infotainment system uses both a 10-inch screen and a 5.5-inch screen to give you ultimate control and access to your preferred applications. Plus, a built-in 4G LTE hotspot turns the I-PACE into a rolling Wi-Fi network. Sitting in the driver's seat, you'll see a 12.3-inch high-definition screen in the gauge cluster. This dynamic display provides helpful information and can even display 3D navigation.
On top of these interior tech features, Jaguar adds a full suite of active safety technologies. Adaptive Cruise Control, Emergency Braking, Lane Keep Assist, Driver Condition Monitor, and other features are ready to help you driver safer.
Experience Exciting Performance in the 2020 I-PACE at Jaguar Troy Near Birmingham
Come to Jaguar Troy near Bloomfield and Royal Oak when you're ready to see the new 2020 I-PACE for yourself. Getting behind the wheel can help you understand the exciting performance and advanced technology that this new SUV has to offer. If you've never considered an electric vehicle before, this may be the perfect vehicle to convince you.
Compare the Jaguar I-Pace to the Competition
I-Pace vs the Audi Etron
Jaguar I-Pace vs. Audi E-Tron
On the performance front, the I-Pace is the clear winner. Its 512 pound-feet of torque help propel the I-Pace from zero to 60 mph in a blazing 4.5 seconds. The Audi E-Tron crossover is a second slower, reaching the 60-mph mark at 5.5 seconds. That's still fairly quick, but it means the E-Tron will fall to the I-Pace in a drag race.
You're likely to get more for your dollar by choosing the I-Pace. Its base price of $70,495 gets you impressive performance and a ream of standard features. By contrast, the E-Tron starts at just under $80,000. If you're looking for the smarter investment, we recommend the Jaguar.
The E-Tron may be slightly larger in stature, but the I-Pace still manages to beat it in key interior dimensions. The Jaguar edges out the Audi with its 39.9 inches of front head room and 40.9 inches of front leg room.
Shop our Inventory
I-Pace vs the Tesla Model X
Jaguar I-Pace vs. Tesla Model X
The Tesla Model X P100D offers the most robust performance, but it costs nearly twice the I-Pace starting MSRP. For a similar price point to the I-Pace, you'll have to get the Model X 75D, which offers 387 pound-feet of torque and a zero-to-60 mph sprint in 4.9 seconds. That's nearly half a second slower than the I-Pace.
The I-Pace manages to edge out the Model X in terms of estimated range. With conservative driving, the I-Pace is rated to go up to 240 miles with its electric-only powertrain. The Model X trails just behind with an estimated 237-mile range.

Starting pricing for the Model X may be lower than the I-Pace, but you'll have to spend more money to get matching performance. A similarly equipped Model X 75D starts just under $80,000. The I-Pace comes standard with blistering performance and base price of $70,495.
Shop our Inventory